The luxury Lincoln Nautilus is the SUV you need. The Nautilus is a midsize SUV with all-new features.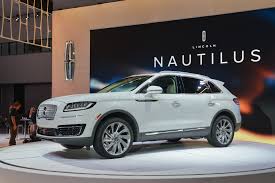 New Features
-Exterior Design
-Interior Space & Styling
-Technology
-Engine
Technology
Lincoln's SYNC 3 infotainment system comes standard allowing for Apple CarPlay and Andriod Auto. The digital panel is 12.3 inches.
Safety is a top priority. The new lane-centering feature helps keep the car within its lane. This is done by censoring the boundaries. If there is an object in the road a steer assist will automatically maneuver around the object. Collision warning, pedestrian detection, blind spot monitoring, lane departure warning, and cruise control adaptation also help improve safety.
Engine
Under the hood the engine has the EcoBoost found in the Ford engines. It now features a 2.0 turbocharged four cylinder with 245 horsepower. The uprated engine is 2.7 V6 with 335 horsepower.
Exterior
The front end and the front grill now feature design similar to the Lincoln Continental Sedan and the Lincoln Navigator.
Convenience of opening the trunk with a hands-free lift gage. When someone swings their leg under the back bumper the trunk will open when the car is unlocked. This makes opening the trunk much easier especially when your hands are not free.
Interior
More space allows for more comfort and convenience. The inside allows for 27.2 cubic feet behind the rear seats. When the second row seats are folded there is 68.8 cubic feet.
The style on the inside is different. The steering wheel is the same as the Lincoln Continental. The buttons on the side of the center console remain the same allowing for a sleek look and convenience for the driver.
The leather comes standard in the five seat vehicle. Front seats feature heating and cooling allowing the driver and front passenger to be comfortable in the winter and summer seasons.
Upgrades feature a panoramic moon roof, wireless charging for your cellphone, and a 13 or 19 Revel audio system. Black Label trim is also available as an upgrade.